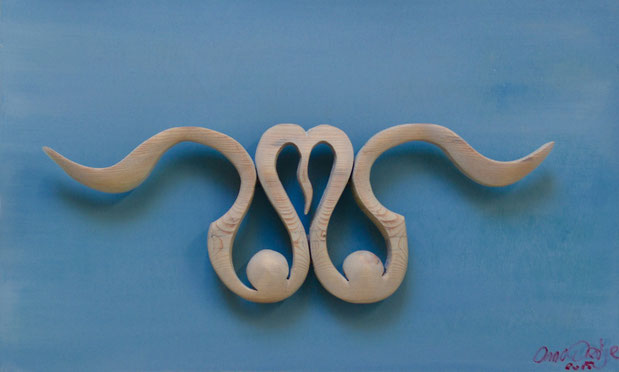 Onno Dröge    
Date of birth: 30-1-1961                                                                                                                 
City/Country:   Roermond, The Netherlands                                                                                   
email: onno.droge@gmail.com                                                     
Studies:  Study in Visual Design at the Hoge School van de Kunsten in Maastricht, from 1986-1992
Study in Art & Education at the Hoge School van de Kunsten (HKU) in Utrecht, from 2002-2005                     
Art & Inspiration 
My Soul is strongly inclined to softness and roundness, to fluid lines and shapes, to space in and around my objects. In my objects, I like to refer to the spirit world and the heavenly, represented through the fluent shapes, the presence of shadow and the colours. 
I'm the third child out of five. Growing up, my parents were emotionally challenged, as all of us children went through a (seemingly) worrisome period. I myself for example, got seriously stuck at birth, and had an accident at the age of 9 through which I got into a coma. I came out of it three weeks later and had to relearn how to speak and walk. At least one of these events, if not both, could have contributed to the fact that I was not as great a student as my brothers and sisters. I was smart in my own ways, but too slow to keep up with the standards of others. Already as a child I loved to build sculptures with sand, blocks, meccano, LEGO and clay. My personal interest in art came to blossom during the many holidays I spent with my family in beautiful places in south Mediterranean countries as France, Italy, Marocco and Jordan. 
I was, and still am, infatuated by the blueness of the ocean in combination with rough, rocky and sandy landscapes. Knowing this, you can probably imagine how impressed I was by the City of Petra, with its colours and its beautiful temple sculptures that are carved into the rocks. This is how, as an adolescent, I became very fond of the contrast  'soft and round versus rugged and raw'.  As a young adult, I worked at a bank where I struggled to keep up with the expectations.
When my mother was diagnosed with the disease MS, I realized that life is short, and so I decided to apply for an evening art course at the Stadsacademie voor Beeldende Kunsten in Maastricht. During these studies as well as after my degree in 1992, there were some life changing moments: I met my life partner, got fired at the bank, and finally decided to found my own little art school for children and adults, had my first exhibitions with clay objects, became a father of two children and got two teaching degrees in art (one for primary school and one for secondary school). Let's conclude by saying that my early life was defined by the process of traveling home to my heart and to my skills.     
---
 How would you describe yourself and your artwork? 
My soul is strongly inclined to softness and roundness, to fluent lines and shapes, to space in and around my objects. In my objects I like to refer to the spirit world and to the heavenly, represented through the fluent shapes, the presence of shadow and the colours.
Where do you get your inspiration from: 
It is a style of its own that emerged from its own feelings. Of course several styles of art and architecture have inspired me. I want to be close to nature. Clay and later wood helped. me to translate the love for nature and women into curves and flowing lines (sculptures). It is certainly the material in which I can express certain feelings. The earthly feelings, the contact with the water / sea, the rocks, the beach, the living nature.
What emotions do you hope the viewers experience when looking at your art? 
Through the shapes I hope to translate love, affection, the earthly and spiritual life, mystic. Because life is a kind of puzzle of many situations, conditions, experiences and feelings. I hope to bring the viewer closer to his/her own (spiritual) heart.                   
When do you know that an artwork is finished ?
After a period of devotion the object 'tells' you when it is ready: it might fit the drawings or it might ask much less or much more than that. I like to renew and develop myself, new ideas come and go. Sometimes I abandon an object temporarely because a new shape is pushing itself to strongly forward. Therefor I am often working on several shapes simultaneously. The abandoned shape might profit from it later. 
What has been the most exciting moment in your art career so far? 
Everything that has happened and is happening, apart and together, has its value. Therefor I cannot mention one specific moment of excitement. If I force myself I would say my first exhibition in Geleen after graduation?                                        
What exciting projects are you working on right now? Can you share some future plans? Do you have any upcoming events or exhibitions we should know about? Where do you see your art going?
2019-2022: Time as well as developments in my thinking have changed my way of working. I have started painting on small hardboard shelves. Anyways, I am driven by round (feminine) and flowing shapes, by colours in combination with enamel white. For my, this enamel white has an association with the plastic and polyester shapes that emerged in the 1970s and 1980s. I have a longing for the past and a love for materials. It is the earthly that i do not want to let go of and the thought of beautiful moments. Time does not stand still and neither does my existing work. With a keen eye for details, I also update older works.